The 4 interior design trends we'll be seeing a lot in 2024
Curious about the interior design trends for 2024? To give you a hint, it's all about revisiting the trends from years past. The '70s and the Urban Jungle are making a comeback. Additionally, expect to see a lot of rounded shapes and sustainability – both of which have always had a presence. Read on to discover the interior trends for 2024!
Interior design trends for 2024
Curved Lines
The Curved Lines trend is one that can be integrated into nearly any interior style. It revolves around incorporating rounded shapes. Think of round and oval dining tables, which were already prominent in 2023. However, 2024 takes it a step further. Imagine organic tables, such as a tabletop adorned with various twists and movements that seamlessly flow into the legs. Or a curved sofa. This also applies to a rug: it's no longer simply rectangular but comes in various shapes.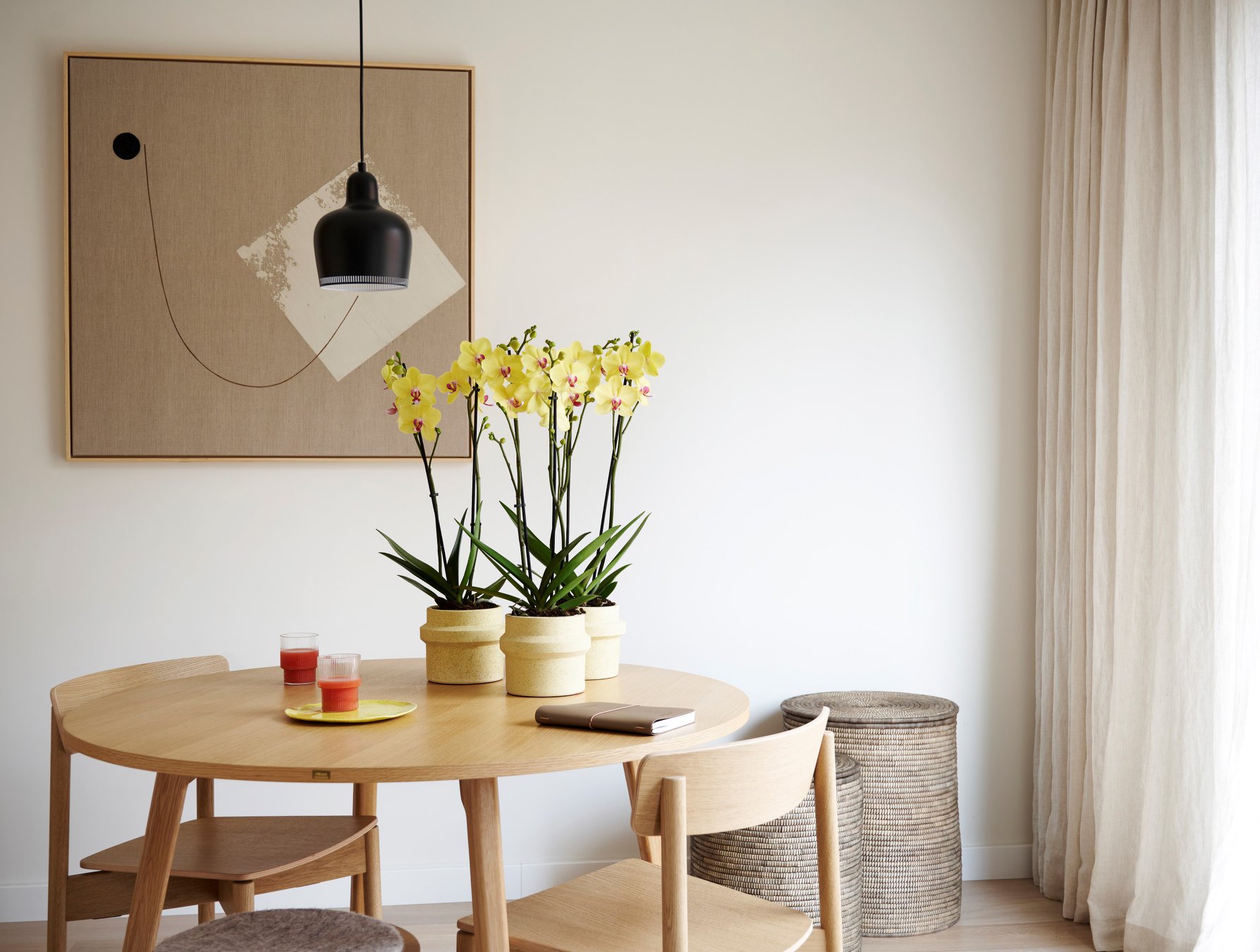 Bold & Funky
The Bold & Funky interior trend takes us back to the Seventies – a vibrant decade where fabrics and patterns were all about going wild. However, the busy prints will be left behind in 2024. What we will be seeing? Plenty of velvet fabrics, vertical wooden slats, large and comfortable furniture pieces, and funky shapes that add a twist to your interior.
Colours within the Bold & Funky trend are more subdued to promote tranquility and unity. The colour palette features softened greens like olive, shades of purple, and caramel. This allows you to incorporate eye-catching colours while still maintaining a calm atmosphere at home. To add a touch of vibrancy, consider adding cobalt blue accessories – from decorative cushions on the sofa to artworks on the wall!

Foto: Pflanzenfreunde.de
Sustainable Living
Sustainability remains a pertinent topic, which explains its ongoing prominence within interior design. It starts with revamping old furniture and buying second-hand pieces from thrift stores, but it goes beyond that. Sustainable alternatives to new products are becoming increasingly prevalent. Think of curtains made from recycled PET bottles, carpets crafted from old fishing nets, and furniture constructed from repurposed wood!
Furthermore, the production process is evolving: artisanal craftsmanship is gaining prominence. The focus is shifting away from polluting mass production that rapidly changes collections and moving towards handcrafted furniture, art, and accessories, all created with a mindful approach for our planet.
Foto: Pflanzenfreunde.de

Soft Outdoor
For Urban Jungle enthusiasts, the Soft Outdoor trend brings good news, as greenery is making a comeback. But with a subtle twist. While the Urban Jungle previously featured robust metal elements, rustic mango wood, and teak, 2024 shifts towards the use of light oak and refined steel finishes. Marble is also making a comeback, subtly integrated into small tables. When it comes to fabrics, think of linen or cotton in soft hues to induce a calming sensation. Leaf-patterned wallpaper is still popular, but in a more subdued manner. And of course, plants are an essential element in this trend!