Curious about the interior design trends for 2024? To give you a hint, it's all about revisiting the trends from years past. The '70s and the Urban Jungle are making a comeback. Additionally, expect to see a lot of rounded shapes and sustainability – both of which have always had a presence. Read on to discover the interior trends for 2024!
Interior design trends for 2024
Curved Lines
The Curved Lines trend is one that can be integrated into nearly any interior style. It revolves around incorporating rounded shapes. Think of round and oval dining tables, which were already prominent in 2023. However, 2024 takes it a step further. Imagine organic tables, such as a tabletop adorned with various twists and movements that seamlessly flow into the legs. Or a curved sofa. This also applies to a rug: it's no longer simply rectangular but comes in various shapes.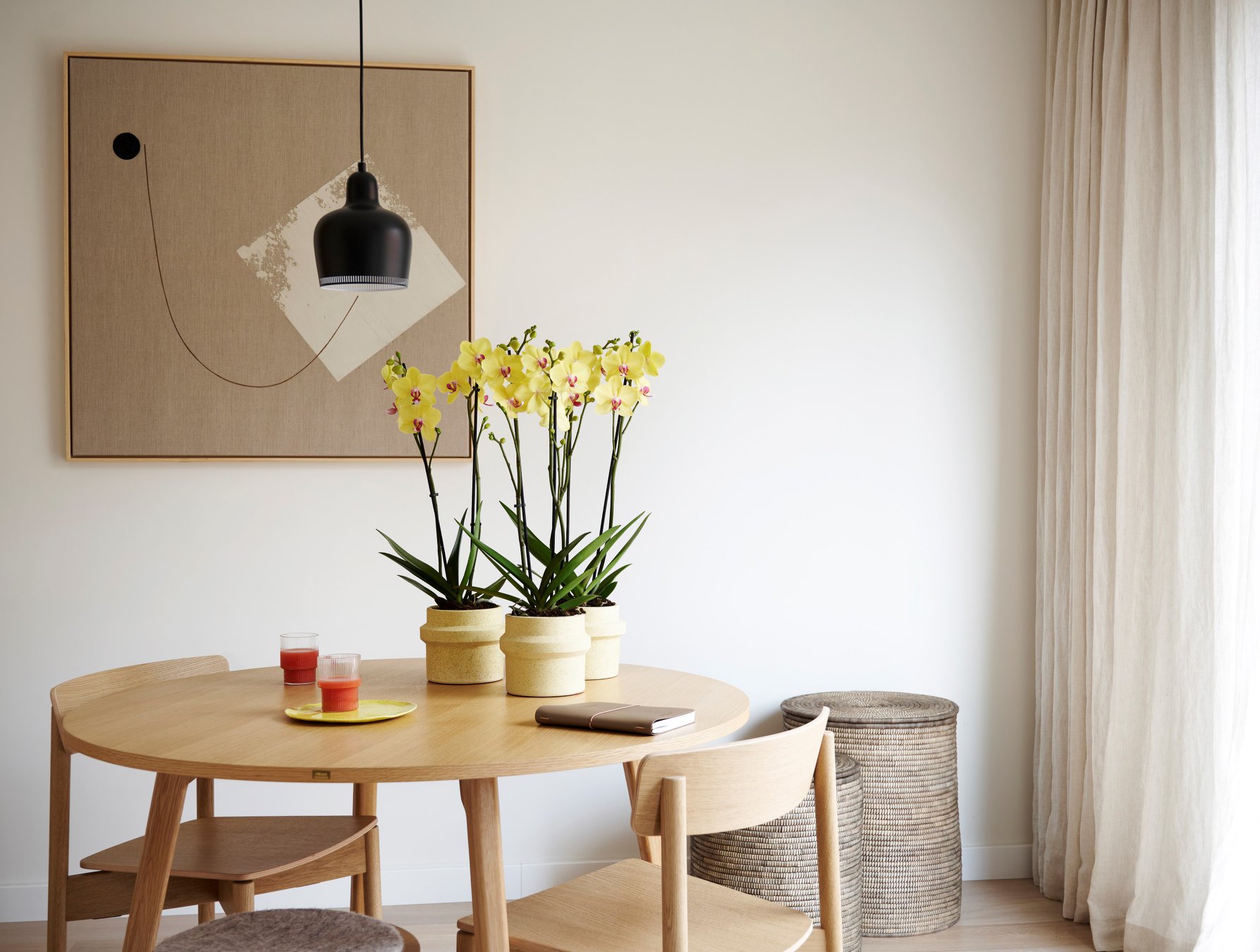 Bold & Funky
The Bold & Funky interior trend takes us back to the Seventies – a vibrant decade where fabrics and patterns were all about going wild. However, the busy prints will be left behind in 2024. What we will be seeing? Plenty of velvet fabrics, vertical wooden slats, large and comfortable furniture pieces, and funky shapes that add a twist to your interior.
Colours within the Bold & Funky trend are more subdued to promote tranquility and unity. The colour palette features softened greens like olive, shades of purple, and caramel. This allows you to incorporate eye-catching colours while still maintaining a calm atmosphere at home. To add a touch of vibrancy, consider adding cobalt blue accessories – from decorative cushions on the sofa to artworks on the wall!

Foto: Pflanzenfreunde.de
Sustainable Living
Sustainability remains a pertinent topic, which explains its ongoing prominence within interior design. It starts with revamping old furniture and buying second-hand pieces from thrift stores, but it goes beyond that. Sustainable alternatives to new products are becoming increasingly prevalent. Think of curtains made from recycled PET bottles, carpets crafted from old fishing nets, and furniture constructed from repurposed wood!
Furthermore, the production process is evolving: artisanal craftsmanship is gaining prominence. The focus is shifting away from polluting mass production that rapidly changes collections and moving towards handcrafted furniture, art, and accessories, all created with a mindful approach for our planet.
Foto: Pflanzenfreunde.de

Soft Outdoor
For Urban Jungle enthusiasts, the Soft Outdoor trend brings good news, as greenery is making a comeback. But with a subtle twist. While the Urban Jungle previously featured robust metal elements, rustic mango wood, and teak, 2024 shifts towards the use of light oak and refined steel finishes. Marble is also making a comeback, subtly integrated into small tables. When it comes to fabrics, think of linen or cotton in soft hues to induce a calming sensation. Leaf-patterned wallpaper is still popular, but in a more subdued manner. And of course, plants are an essential element in this trend!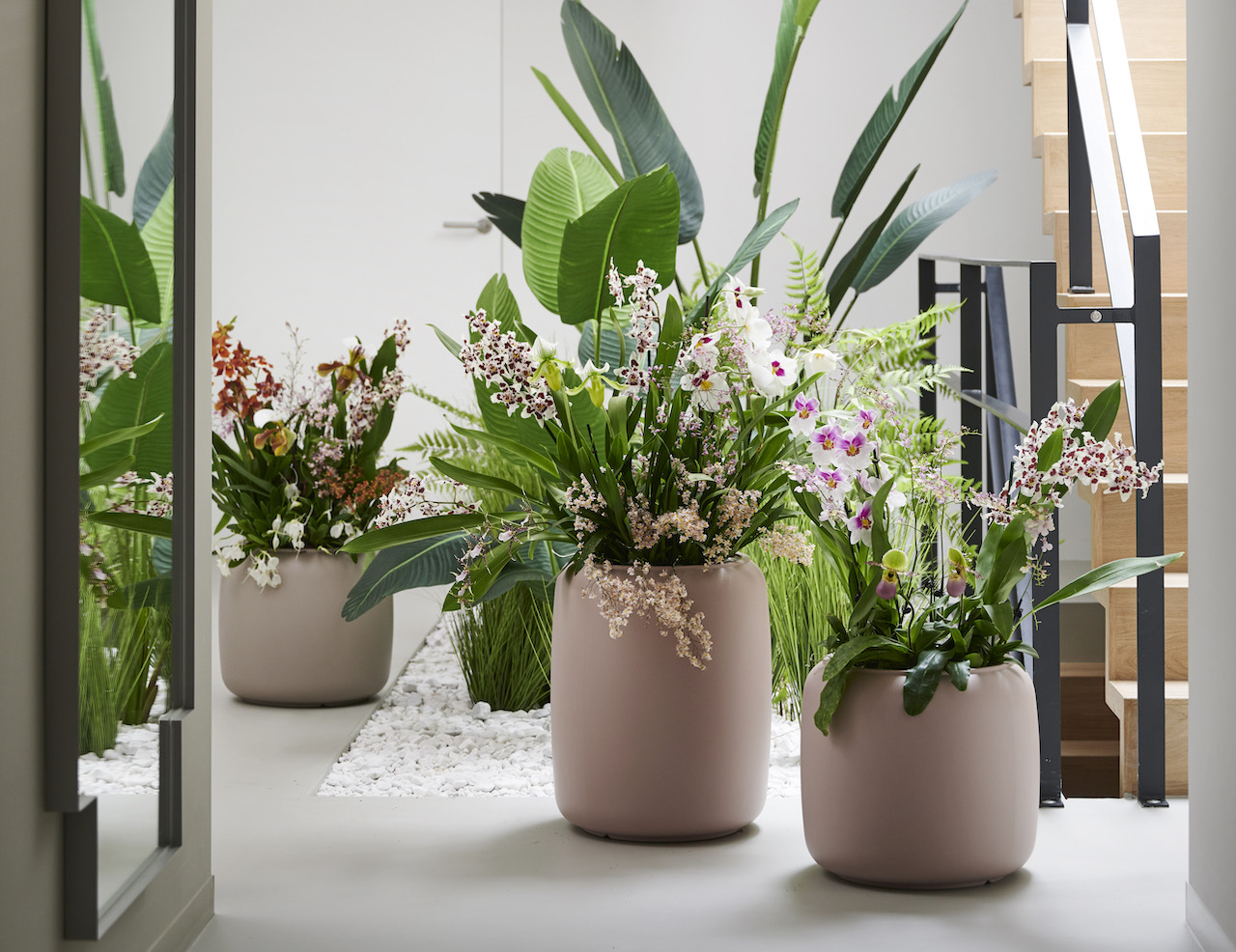 Curious about the style trends for 2024? The Flower Council Holland has developed four style trends for 2024, together with Tuinbranche Nederland, iBulb, INretail and Bureau Nijman + Van Haaster. All four are based on the current zeitgeist but are all different. Keep reading to get inspired!
Style trends for 2024
Meaningful Earth
The Meaningful Earth style trend revolves around the concept of the earth: an "ancestral" interior filled with rough and rugged materials. These materials are natural and coarse, often eco-friendly or made from recycled materials. Think of stone, minerals, ceramics, coconut, burlap, cotton, pressed recycled leather, clay, mud and irregular glass. The shapes are rough, coarse and irregular, and have a primitive look and feel. The designs are natural as well, such as spot patterns, fossil prints and stripes that resemble layers of earth. Additionally, objects like jugs or sculptures are incorporated to connect with the roots of our culture.
Foto: Mooiwatplantendoen.nl
Foto: Mooiwatplantendoen.nl
Floral arrangements are not neat and tidy but have a rugged look & feel. In terms of plants, we see lots of highly visible bulb products. For instance, placed in a glass bowl full of multi-coloured sand layers, so that the soil is clearly discernible.
Not surprisingly, shades of brown play a major role in the colour chart for accessories. The Meaningful Earth colour chart has been modified for flowers and plants and contains light yellow and salmon hues, that combine beautifully with dark and greyish-green shades.

Viva La Vida
The Viva La Vida style trend represents a cheerful, exuberant celebration of life, filled with passion, colour and expressiveness. Forget minimalism and immerse the home in vibrant colours – Spain and Mexico are clearly sources of inspiration here. Natural materials are used in a decorative manner. These include decorative tiles, mosaics, coloured and woven reed and raffia, textiles with frayed ends, frills and fringes, pigmented wood and patterned wrought iron with patterns. The designs are colourful and diverse, ranging from classic to modern.
When it comes to floral arrangements, colour is key. Preferably vibrant and festive, combined with full flower forms. Whether it's voluminous bouquets or a single striking flower, they serve as eye-catching focal points. Flowering houseplants are also perfect for this trend.


This kind of trend naturally features a warm and exuberant colour palette. Essential colours are pink, red, Viva Magenta (Pantone colour of the year 2023), orange and bright yellow. These colours are also found in flowers, plants and accessories. The accent colours in this palette include black, Marsala brown and bright mint green. These tones are perfect for accessories and large elements, both indoors and outdoors.
Gentle Paradox
Contrast is what style trend Gentle Paradox is all about. In a calm interior, we find an abundance of round and soft shapes, with furniture that is sometimes made of unexpectedly hard materials. Hard, smooth materials alternate with soft structures, as if trying to soften the hard reality. Marble, concrete, ceramics, plastic, baked tiles and natural stone are common elements, alternating with high-pile carpets on floors and walls. Textiles also play a role, from pleated and ribbed to bouclé. In terms of patterns, the sky's the limit, with everything from romantic floral patterns to abstract designs.
Flowers also contribute to softening and creating a dreamy atmosphere. For example, by placing arrangements in corners or on the floor, against the wall. Arrangements are 'cloudy', often with transparent edges and also featuring dried flowers. Individual flowers add a sense of softness through their shape or subtly transitioning colours. A transparent character and soft leaves, in terms of colour and texture, are also important when it comes to plants.
Photo: Thejoyofplants.co.uk
Photo: Thejoyofplants.co.uk
The Gentle Paradox colour palette is soft and conveys a sense of tranquillity and harmony. Neutral colours and pastel shades alternate with a warm cognac colour. The shades of green are mostly found in flowers and plants.
Playful Construction
Style trend Playful Construction revolves around experimenting. Featuring playful solutions and structural exuberance, like giant links that together form a sofa. Everything appears to be the consequence of a surprising perspective on consumer items and decorative products. The interior has an optimistic look & feel thanks to product combinations and cheerful colours. Materials are of secondary importance. However, we see lots of tubular constructions made of metal, plastic or glass, which helps to shape the structural character of this trend. The surfaces are mostly smooth. Patterns also play a minor role and are limited to stripes, checks, ridges and circles.
foto: Pflanzenfreunde.de
Foto: Pflanzenfreunde.de
Circular shapes are prevalent in flowers, both in the floral arrangements themselves and the underlying elements. Hanging plants also play a prominent role, excitingly duelling with basic constructions in pots or wall decorations.
Colour is key with this trend, which features a highly diverse colour palette. This palette includes bright colours, fresh pastel hues, silver and light grey – all of which can be combined endlessly.
Stay informed with monthly news, promotions and inspiration.