The colour we will see this year is Viva Magenta, which Pantone chose as the Colour of the Year 2023. It is a nuanced red tone, balancing between warm and cool. Wondering how you can style the Pantone Colour of the Year 2023 in your interior? Then read on for inspiration!
Viva Magenta: Colour of the Year 2023
Pantone reveals the year's colour based on trends in different industries, including interior and fashion. In 2023, that will be Viva Magenta: a brave, dynamic and vibrant hue. It's a pulsating colour whose exuberance promotes optimism and joy.

How to style the Colour of the Year 2023
Viva Magenta is a striking colour but combines easily with other colours. You can easily add an accent colour to your interior with plants, and the same goes for the orchid in this dark red colour. This is already a beauty in itself because the colour matches beautifully with the dark green of the leaves of the plant.
For example, create a ton-sur-ton effect by styling Viva Magenta with the same shades. Think of light pink, purple or burgundy.
The Colour of the Year 2023 also combines great with contrasting colours, such as yellow and orange. The result is a cheerful mix that is perfect for spring.
Do you prefer a calm base? Then opt for light blue, light gray, khaki or taupe. With these natural shades, the Colour of the Year stands out beautifully.
Curious about this year's trends? The Flower Council Holland has developed four style trends for 2023, together with Tuinbranche Nederland, iBulb, INretail and Bureau Nijman + Van Haaster. All four are based on the current zeitgeist, but are all different. Read on and get inspired by these style trends for 2023!
The style trends for 2023
Ode to Nature
Within Ode to Nature it seems as if nature invades and takes over our interior. The used materials are natural – such as rattan, clay, wood, natural stone -, recycled and/or environmentally conscious. The shapes are organic, robust and whimsical. For example, we see many rock, stone and boulder shapes or shapes that appear to be handmade. Used designs are natural structures, reliefs, whimsical stripes and gradient or overflow effects. In terms of colour, expect brown, green and soft, natural tones in the interior.
The flowers and plants within this trend are whimsical and natural in shape and are also used in that way. Outdoors, nature is given free rein too, with organic and whimsical shapes. Gardens take on a wild character, with winding semi-paved paths and wild borders. The use of many different plants and flowers stimulates biodiversity. Balconies are also vibrant green, with an abundance of plants, horizontally and vertically.

Vintage Folklore
Vintage Folklore is about diversity and the longevity of a product. Don't just throw something away, but repair it with love. This leads to an interior with influences from the 1970s, from rural folklore, handicrafts, and fine floral designs, but also composite products, broken and broken shapes as if they were glued together.
The result is a personal interior with a warm, inviting appearance. Think of soft furniture with round shapes, coloured wall plates and patchwork. Bouquets are colourful and wild, with dried flower details. Plants are everywhere.
Within Vintage Folklore there are many materials with a nod to the 1970s. Jersey, bouclé, corduroy, textiles, crochet and knitting, veneer, tiles and ceramics are examples of this. The colours in this trend are cheerful and diverse, and don't seem to match at first glance. Expect a colourful palette with natural and bright tones and pastels in addition to dark colours.
Outside we see a garden that arises more or less spontaneously through the use of elements that happen to be available. This ensures a creative garden or balcony full of beautiful recycled finds, in which everyone is welcome and everything is possible. You will find colourful garden furniture, patterned partitions and a cosy collection of plant pots.
Layered Spaces
Nowadays we are living smaller and smaller, while at the same time we want to combine more functions in our house. This creates a certain layering, with multifunctional furniture and room dividers. For example, rooms are conveniently transformed by small adjustments, so that, for example, a workspace is created. By playing with effects you get the feeling that there is more space than there actually is. We come across flowers and plants in unexpected places, such as in the toilet. Bouquets are arranged in layers and you also need to be able to easily 'stack' or move plants.
The contrast is reflected in the colour chart too. We recognize warm/cold, light/dark and bright/pastel. By using colours that come towards you or increasing the distance, you create the spatial effect that is central to this trend.
In the garden, we see spaciousness too. There are many different corners, and indoor and outdoor spaces seem to merge into one another. For example, a heavily planted interior space can feel like a garden, especially in office buildings. We use the existing space optimally with plants: think of plants on roof terraces, roofs, barns and verandas. Fences and hedges provide a bocage-like effect. Full borders make way for more transparent plants, in which colour contrast plays an important role. This also influences spatiality.
Collecting Memories
In a changing world, we like to surround ourselves at home with products that we recognise and that give a comforting feeling. Common materials used in this trend are ceramics, porcelain, traditional wickerwork, enamel, cane, zinc, cast iron and natural textiles, wood, cork and leather. The designs are calm and unobtrusive. They sometimes refer to nostalgic patterns such as weaving or braiding. The flower arrangements are delicate and poetic. In natural bouquets, each individual flower receives attention. Small delicate flowers and leaves with a fine structure are important elements. We also see irregularly shaped plants and plant pots, and older plants that have grown together with their environment. These give a unique look to this trend.
Colours play an important role too. Soft and dark greens offer comfort and security. Lilac and pink stand for softness, memories, and poetry. Flowers and plants complete this sense of comfort and memories.
We also find harmony and poetry in the garden. Elegant winding paths, transparent borders and intimate terraces invite you to relax for a while. Colourful garden furniture consists of nostalgic wickerwork, plants have delicate leaves and lovely flowers. We see a great diversity of flowers and plants in soft colours, for a melancholic appearance.
The wedding season is in full swing, and we couldn't be happier. After a few years of uncertainty, bridal couples now dare to look ahead and go all out. We can celebrate love again! Are you getting married this year? In this article, you can read the wedding trends of 2022 and inspiration about how to incorporate orchids within these trends.
The wedding trends of 2022
Theme colour Very Peri
The Pantone colour of 2022 is Very Peri, a mix of warm blue and purple. This also makes it a trendy wedding theme colour. It can range from a small detail in the bridal bouquet to an entire purple decoration. Even though a tight colour palette isn't that popular this year, we do see this colour a lot.

Intimate wedding
One of the biggest wedding trends of 2022 is the intimate wedding, also known as micro-wedding or tiny wedding. Thanks to the pandemic, many couples have discovered the charm of an intimate party. They choose quality over quantity when it comes to wedding guests, typically with no more than 40 guests and only the ones who play an active role in their lives. Micro-orchids would be a great fit for this wedding. Micro in size, but multi-flowered!
Over-the-top wedding
On the other hand, many bridal couples go wild now it's possible again. The over-the-top wedding is back! Neither costs nor resources are spared to be able to fully enjoy it after the pandemic. Think of a cocktail bar, oyster bar, candy station or perfume station in the toilets. But multi-day weddings are popular too. For example, bridal couples choose to get married at a location where their guests can spend the night too, to have brunch together the next morning. And with over-the-top weddings, you need over-the-top decoration as well. So, with this trend, you can go all out with floral decorations.
Sustainability
We already saw it in the wedding trends of 2021, but sustainability remains a hot topic. With the world becoming more conscious of its own environmental impact, it's no wonder that sustainable weddings have been growing in popularity over the years. Think of save the dates and invitations that are sent via email, bridal wear that is rented instead of bought and a vegetarian or even vegan dinner menu. Another idea is deco items that can be reused, such as houseplants that you place in your house afterwards, instead of artificial flowers. In the case of orchids, it's easy. At the end of the wedding, everyone can take one (or more) home. Tip: provide bags so that they are easy to carry.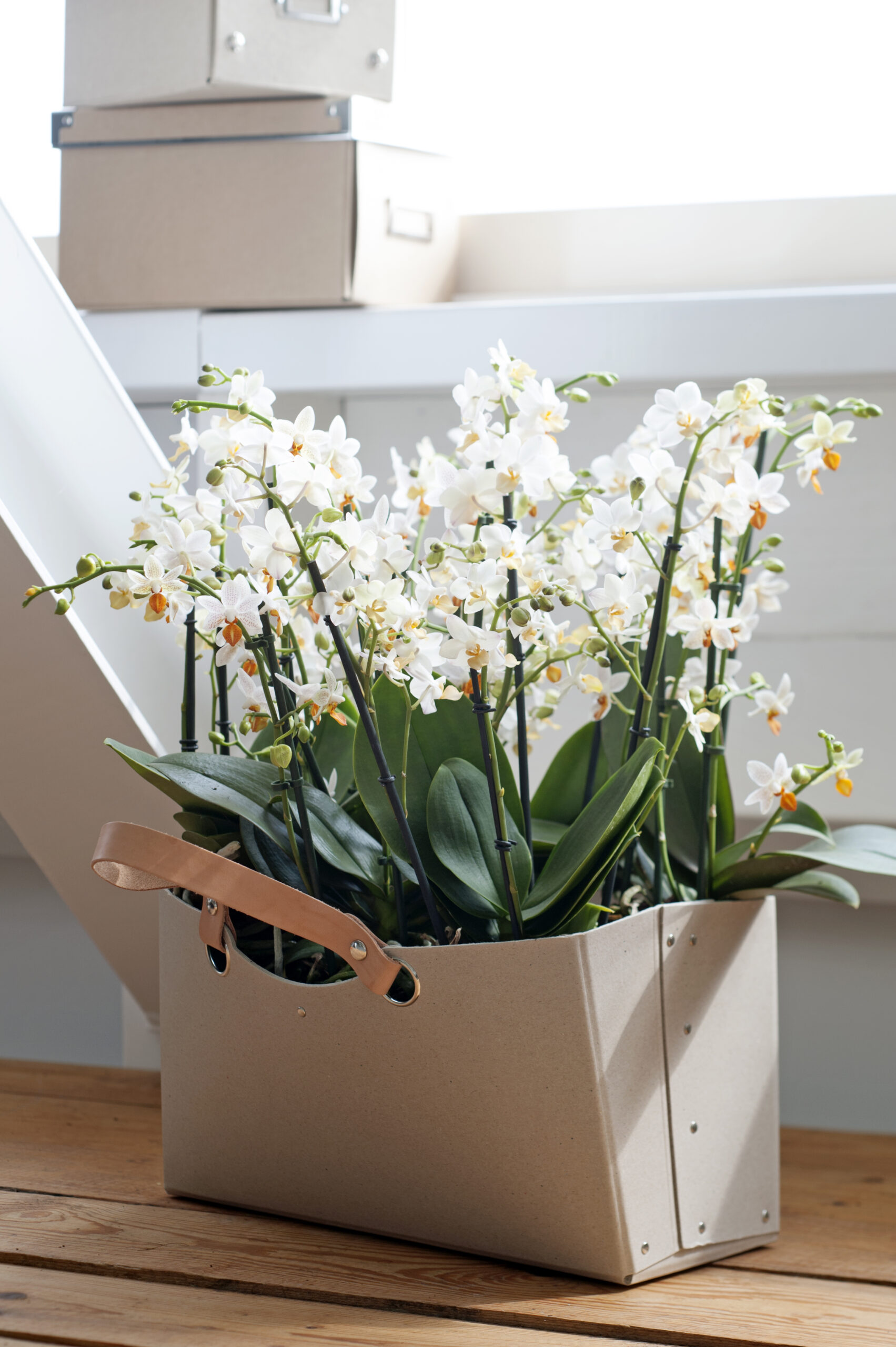 Flowers
Flowers are indispensable at a wedding. Not only in the bridal bouquet, but also as decoration at the location. In recent years it was all about 'the greener, the better', but in 2022 it's all about the flower itself! In addition, dried flowers are very popular, especially in combination with fresh flowers. Also, consider plants that are placed on the sides of the aisle. It's something different and a bit more original!
Overdressing doesn't exist
We've been sitting at home in our pyjamas and sweatpants for a long time, which makes everyone want to get dressed up again. And the same goes for the wedding guests. It's time to get out and dust off the prettiest clothes. Being overdressed doesn't exist anymore!
Stay informed with monthly news, promotions and inspiration.